Chain feeding system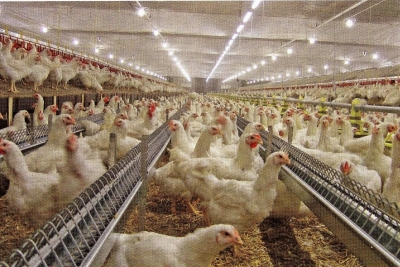 Chain feeding is a proven method for consistent, efficient feeding. Agromax Flat Chain Feeder moves feed around the complete circuit within minutes. The prices are competitive compared to other mechanical systems.

The entire flock has equal access to the same feed. It evenly distributes feed with low stress to the birds. Resulting in healthier birds, more uniform bird size, as well as financial saving from less wasted feed. Agromax Flat Chain Feeder is designed for easy maintenance. Routine service can be performed by the farmer, saving the cost of service personnel.
Agromax chain feeder is built from industry standard components and is compatible
with other chain feeders. Agromax can provide you with replacement
parts to fit most chain feeders, including chain, couplers, troughs and corners.


Chain feed hoppers are available in a wide variety of sizes to serve every feeding
requirement. Also a choice of several feed delivery speeds.


Chain troughs come with feed saver lip to reduce feed waste and can be supplied
with wire grills to prevent males from using the feeder.


A complete suspensible chain system is also available on request.